The Sursaut Dance Company in collaboration with the Regroupement québécois de la danse, Artère in Quebec City and Danse Laurentides offers training classes for dance professionals.
Teacher
Arielle Warnke St-Pierre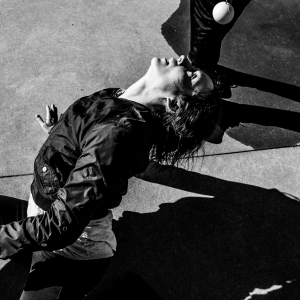 Location
Centre des arts de la scène Jean-Besré
Dates
February 6th to 10th 2023, 9:00 a.m. to 11:00 a.m.
Duration
2h00
Capacity
15 participants
Price
$7 / class for those eligible for the reduced rate || $20 / class full rate
Arielle Warnke St-Pierre's class is primarily inspired by the Fighting Monkey practice. She offers a space to explore the possibilities of your moving self. Playfulness fosters intuitive, spontaneous, functional, and creative movement. It allows us to encounter and develop the potential of your elastic body.
As a fertile ground to nourish your presence, your relationship to yourself and the other, explorations will have a major positive impact on your physical awareness, as well as your individual and our collective well-being.
About Arielle
Arielle Warnke St-Pierre has been exploring movement for 20 years. Her path has been heavily influenced by her interest in practices and explorations that support autonomy in growth, transformation, and nurturing a relationship to what isn't visible. Over time, she has sought to develop spaces to share movement that combines tools and practices that have been important to her. Here, she encourages the development and expression of each person's inherent and unique movement potential.
For inscription:
*Before attending your first class, you must fill out the Registration for RQD multi-regional classes.
Information: 819-822-8912 | info@sursaut.ca
Banner – photo: François Lafrance, dancer: Nancy Letendre | Portrait of Arielle: Emmanuel Buriel