The Sursaut Dance Company in collaboration with the Regroupement québécois de la danse, Artère in Quebec City and Danse Laurentides offers training classes for dance professionals.
Teacher
Sovann Rochon-Prom Tep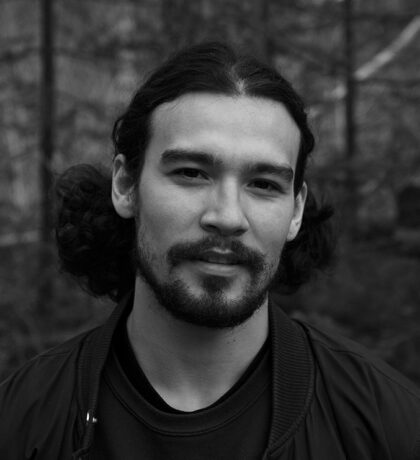 Location
Centre des arts de la scène Jean-Besré
Dates
October 18 to 22, 2021 & May 9 to 13, 2022, 9:30 am to 11:30 am
Duration
2h00
Capacity
15 participants
Price
$7 / class for those eligible for the reduced rate // $20 / class full rate
Sovann's class uses his breakdancing experience to teach weight-transfer coordination, allowing the body to move outside its vertical axis. He focuses on understanding the principles of physics rather than esthetics. The goal is to find pathways in the body that are harmonious, efficient and without impact on the joints. Sovann Rochon-Prom Tep teaches various break dance moves, without actually imitating the style. The movements are designed in a way to be easily interchangeable.
Sovann Rochon-Prom Tep – Biography
Sovann Rochon-Prom Tep grew up in the hip-hop scene. After joining the Sweet Technique group, he has participated in numerous break-dance competitions, fine-tuning his skills over the years. To date, Sovann has garnered over 30 victories and is often invited as a participant or judge in competitions worldwide. Fascinated by body control, he began training at the École de danse contemporaine de Montréal, from which he graduated in 2015. He has since worked with dance companies such as Animals Of Distinction, RUBBERBAND, Wants & Needs, Castel_Blast, 14 lieux, Lilith & Cie, Susanna Hood, Lucy May and Flamant. Eager to pursue his artistic exploration, Sovann continues to grow through his creations and his collaborators' valuable contributions.
*Before attending your first class, you must fill out the Formulaire d'inscription aux classes multirégionales du RQD.
Information: 819 822-8912 | info@sursaut.ca
Banner – photo: François Lafrance, dancer: Nancy Letendre | Portrait of Sovann Rochon-Prom Tep : Priscilla Guy