The Sursaut Dance Company in collaboration with the Regroupement québécois de la danse, Artère in Quebec City and Danse Laurentides offers training classes for dance professionals.
Teacher
Véronique Giasson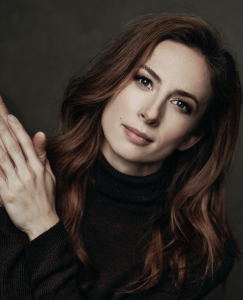 Location
Centre des arts de la scène Jean-Besré
Dates
January 16th to January 20th 2023, 9:00 a.m. to 11:00 a.m.
Duration
2h00
Capacity
15 participants
Price
$7 / class for those eligible for the reduced rate* // $20 / class full rate
Véronique Giasson's contemporary dance technique class is inspired by classical dance and Pilates principles and aims to work on different movement qualities. Through dynamic, precise exercises presenting musical and coordination challenges, you will be compelled to optimize physical possibilities to develop your virtuosity.
Throughout the class, you will be exploring notions of modulating energy and muscular work, mobilizing joints, oppositions, and movement amplitude within the body and in space.
About Véronique
Since 2008, Véronique Giasson has worked as a dancer with renowned companies that tour internationally, namely Cas Public, les Ballets Jazz Montréal and Cirque du Soleil. For over 10 years, she has been teaching dance everywhere in Québec and abroad, in the context of regular classes, master classes, workshops, festivals, and intensives. She has taught for dancers at Compagnie Marie Chouinard, Ballet Ouest, and Ezdanza. Since 2019, she regularly teaches ballet for Danse à la Carte and since 2021, she is on faculty at the École de danse contemporaine de Montréal (EDCM).
*Before attending your first class, you must fill out the Registration for RQD multi-regional classes.
Information: 819-822-8912 | info@sursaut.ca
Banner – photo: François Lafrance, dancer: Nancy Letendre | Portrait of Véronique Giasson: Sasha Onyshchenko (Kravetz Photographics)