The Sursaut Dance Company in collaboration with the Regroupement québécois de la danse, Artère in Quebec City and Danse Laurentides offers training classes for dance professionals.
Teacher
Lucy M. May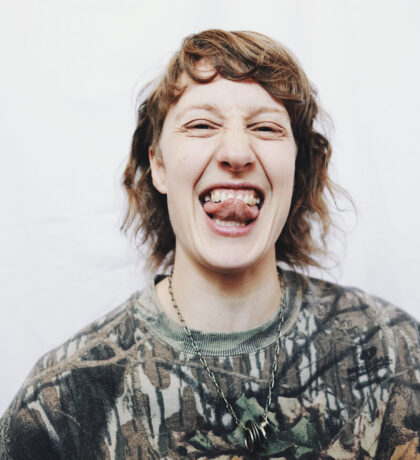 Location
Centre des arts de la scène Jean-Besré
Dates
January 8 to 12, 2024 from 9:00 a.m. to 11:00 a.m.
Duration
2h00
Capacity
15 people per class
Price
$7 / class
This Contemporary dance class led by Lucy M. May will begin with a dynamic
warm up
for functional strength, power, and stamina, based
in
own-body-weight exercise and full-body movement patterns.
Participants will then use self-touch to increase proprioception and anatomical consciousness while moving on and across the floor. Locomotive explorations will be used to prepare movers to think three-dimensionally and to develop their kinetic capacity to engage with the unexpected.
We will then orient towards increased dexterity and expression. A particular focus will be placed on forming relationships with music and others in the room.
Improvisation and interconnectedness are at the
centre
of Lucy's approach, informed by her
Krump
practice under Ja "Jigsaw" Britton Johnson since 2017; her creative work with 7Starr, Margie Gillis, and Marie Chouinard; and her experiences with somatic forms such as Body-Mind
Centring
, Min Tanaka, and Continuum. 
About Lucy
Lucy is a dance artist based in Tiohtiá:ke (Montréal) and born in Fredericton (Wolastoqiyik territory). Improvisation resides at the heart of her work as a dancer, informed by her work with numerous contemporary dance artists, notably Marie Chouinard and Margie Gillis, and by her practice in Krump since 2017 as Pluto aka Ravage Grouch.
She has lead workshops across Canada, at such organizations as L'École de danse contemporaine de Montréal, Toronto Dance Community Love-In, Studio 303, Kinetic Studio, Fluid Fest, DancEncorps, Empirical Freedom, and Fada Dance.
In search of alternative ways of transmitting movement knowledge, she has co-created community gatherings like Off_Script. Her choreographic work investigates the materiality of human attention and our relationships to place.  
Information: 819-822-8912 | reception@sursaut.ca
Photo credit portrait : Calope
Photo credit banner : Fran Chudnoff