The Sursaut Dance Company in collaboration with the Regroupement québécois de la danse, Artère in Quebec City and Danse Laurentides offers training classes for dance professionals.
Teacher
Ford McKeown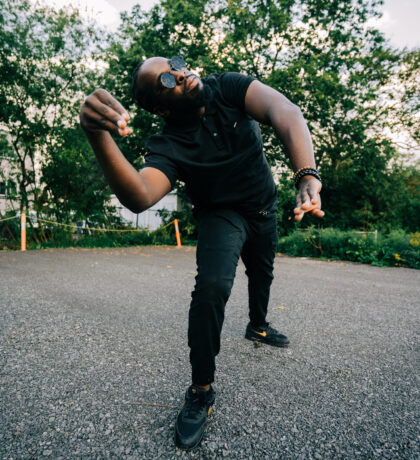 Location
Centre des arts de la scène Jean-Besré
Dates
October 2 to 6 2023, 9:00 am to 11:00 am
Duration
2h00
Capacity
15 people per class
Price
$7 / class
Full Circle was born from the shared desires of Ford «The Mov3r» Mckeown Larose and Phan Hoi «Grimlock» Do to have an engaged and circular artistic practice, going beyond workshops and dance classes. This name brings together today the different forms of transmission within Forward Movements.  
Full Circle is the result of more than a decade of research into the arts of Boogaloo, Robottin', Struttin' and other styles. Reinforced by the essential contribution of French dancer Djiadwi Djohar, the training is structured around the phrase "You. Dance. The Style.", shared in Ford by African-American dancer André "Popula" Kiner in 2013.  
The goal is simple: to offer everyone the opportunity to develop its own approach to Boogaloo and freestyle while integrating the theoretical, technical and historical foundations of this style. 
About Ford
Specialized in street dance, Ford «The Mov3r» Mckeown Larose stands out for its unique approach to Boogaloo and related styles [Popping, Waving, Roboting, Strutting, etc.]. Each step reflects the rich legacies that inhabit it. His choreographic adventure aims to set in motion the parallel universes that animate his imagination. 
photos credit : Do Phan Hoi